Dysart
Miniature Pinschers
Irish Champion
Dysart Whiskey Ginger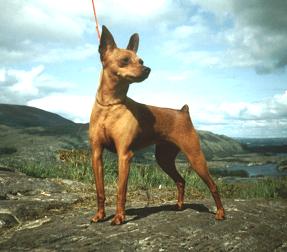 Sire: Baccante Bezzer
Dam: Irish Champion Ashlar Lady In Red at Dysart
Ginger was our first home-bred Min Pin. She was born on 18th December 1990, and won the Green Star and Best of Breed 6 months later at her very first show. She became an Irish Champion on 17th March 1993, also winning Best of Breed that day. Ginger was a great character and we will never forget her. This photograph was taken in 1992 at Ladies' View near Killarney, County Kerry.
Irish Champion
Dysart In Your Dreams
Sire: U-Apoll vom Westmunsterland (IMP)
Dam: Irish Champion Dysart Dream Come True
Schatz had a successful puppy career, although lightly shown. His first show was the St. Patrick's Day Championship Show in 1998, and he won the Dog Green Star, Best Puppy in Breed, and Best Puppy in Group. Schatz's mother won Best of Breed and the Bitch CACIB, making this a very special day for us. Schatz won a further 3 Green Stars that year, giving him a total of 13 points, and we then decided to retire him.

Why? Well at that time we were also showing a Dobermann and two Boxers. Although we tried our best, on numerous occasions that year we missed the Miniature Pinscher judging. Eventually we reluctantly decided to stop showing Schatz in order to concentrate on the Dobermanns and Boxers.

In 2002 we decided to do the "Munster Circuit". We didn't want to put Schatz in boarding kennels, so we decided to enter him in the four shows for a bit of fun, since he was coming with us anyway. Schatz won the reserve Green Star at Clonmel, and went one better at Killarney, winning a 5 point Green Star. At Limerick he won the Green Star and Best of Breed, giving him 10 points, and again at Tralee he won the Green Star and Best of Breed, this time for 9 points. By the end of the circuit Schatz had 37 points, just 3 short of the 40 points required to give him his title! But for the rest of the year we only managed to get to one more show, and although Schatz won the Green Star, it was only worth 1 point, bringing his total to 38 points.

In 2003 we entered the Circuit shows once again, hoping to win those final 2 points. At Clonmel - Disaster! - we went to the wrong ring and missed the Miniature Pinscher judging completely! Fortunately at the next show, Killarney, Schatz won the Green Star and Best of Breed and at last!! Schatz was now an Irish Champion! Schatz also won the Green Star and Best of Breed at Tralee, where he also was placed 4th in the Toy Group. As for Limerick? At this show Schatz won the Reserve Green Star, but the winner was not registered with the Irish Kennel Club and was subsequently disqualified, so Schatz got this Green Star also, bringing his final points total to 59!